Nigerian Gay Man Who Married A Woman, Regrets
Emeka, a Nigerian gay man in an interview revealed to NoStrings about the different challenges that he experienced being married to a woman despite being gay.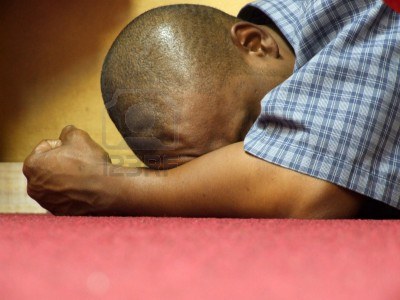 In Nigeria homosexuality is illegal, and LGBT people live in fear of being exposed and persecuted just for being who they are. So in a bid to hide their sexual orientation, many pretend to be heterosexuals and marry persons of the opposite sex, especially with pressure from friends and family. While others sometimes do it just to have children. Some find relief doing this, while others feel tortured in their marriages to persons of the opposite sex.
In a recent interview conducted by NoStrings, a Nigerian gay man who is now divorced, reveals how he married a woman and what followed after.
Read the interview below.
Can you briefly tell us about yourself?
I am a middle aged man, senior executive in oil servicing, and a PhD candidate.
How long have you been married, and do you have kids?
Separated, no kids and married for less than a year. I am now under pressure to reconcile with my wife, so far, it's a NO from me.
Your decision to marry was it influenced by your family, pressure from the society, or it was all yours?
It's a combination of everything. But essentially I take sole responsibility for the decision.
I was alone and depressed with suicidal thoughts and just passed 40. I realized that in some ways, my career growth was stunted because responsibilities required social interactions that are alien to me. My family also needed kids; I wanted kids too. A friend I spoke to said he could introduce me to someone, I accepted and married the first woman I could so much as look at the face. Between introductions and marriage was less than one month. I felt if I left the engagement for too long, I might change my mind. So I dove in.
Does your wife know that you are gay?
I am too conscious of the environment to let her know. The Kenny Badmus situation remains a recurring nightmare to me. In any case, it is possible she may have asked herself some questions particularly with the disinterest in bedroom affairs and my reluctance to drop my guard but I never heard any such questions directed at me and that's why I said no.
Tell us, what are the major challenges involved, you know, being gay and married to a woman?
The sex was mental torture. Communication was lost because there was nothing to discuss. I couldn't fulfill her aspirations of marriage. She wasn't a bad person, but I felt trapped and my depressive mood returned. She didn't understand why and I wasn't ready to tell. We drifted apart.
Are you regretting your decision, and did you feel trapped, or how did you really feel marrying a woman?
In the few months that I was married, I feel like I lost a part of me that I would never get back. I regret that I still do not have the kids I craved. And I regret that perhaps I married for all the wrong reasons. Perhaps, if I had the capacity to adjust, I would have stayed. But I had none of such capacity.
Some people believe that homosexuals are afraid of women, and that's why they form relationships with men, is this true?
I am not afraid of women. I love my mum, I love my sisters and I love my colleagues at my work place. It's just that a part of me can't deal with the opposite gender as sexual or lifetime commitments. Take away all the men in this world, I still wouldn't be attracted.
If you found yourself in an environment that is more accepting of your sexual orientation, would you have decided to settle with a man in marriage?
Of course, and perhaps I would have done so in my younger days abroad. I have still not lost hope that love will find me someday in my lifetime.
Your attraction to men and to women how will you describe it, or does it mean that you do not have any sexual attraction to women at all?
I have no sexual attraction to women whatsoever.
What is your advice to other gay men out there who are contemplating a decision to marry a woman?
It is never the best option to lie your way through life. For some, it's entirely possible. For me, it was an expensive mistake. I may not be where I wish to be emotionally but I would rather be me than some stranger I used to see in the mirror.
Have your say in the comment section below.
Have something to share? Ready to tell your story? Contact us.