Police in Uganda gives full permission for LGBT pride event to continue
The police in Uganda have given their full permission to the Ugandan LGBT community to continue with its pride event that was recently disrupted and cancelled.
The Ugandan LGBT community is not giving in to defeat, as with courage, they make plans to continue with its pride event which has been scheduled to kick-start from the 24th of September.
Famous Ugandan female activist Kasha Jacqueline revealed this with excitement in one of her tweets, see tweet below.

READ ALSO:
The UK Lesbian and Gay Immigration Group also showed their support for the event. This they followed with one of their tweets, tagging along renowned LGBT activist Rev. Jide Macaulay and award winning activist Frank Mugisha. See tweet below.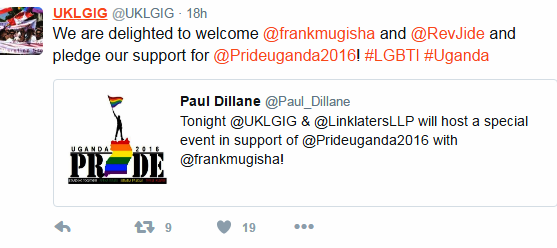 In the evening of August 4, 2016, the Ugandan police invaded and disrupted an LGBT pride. Several activists were arrested but later released after they spent a few hours in detention.
READ ALSO:
Others sustained injuries while trying to escape the venue. Afterwards, the police threatened to do worse if the event continued. The event was later cancelled.
The incident sparked the interest of activists and human rights focused groups from across the globe who strongly condemned the actions of the police.
Homosexuality remains illegal in Uganda, as homosexual activities between males under the country's penal code is described as "carnal knowledge against the order of nature" and attracts a potential penalty of life imprisonment.
Have your say in the comment section below.
Have something to share? Ready to tell your story? Contact us.