Unoma Reveals The Secret Lives Of LGBT Nigerians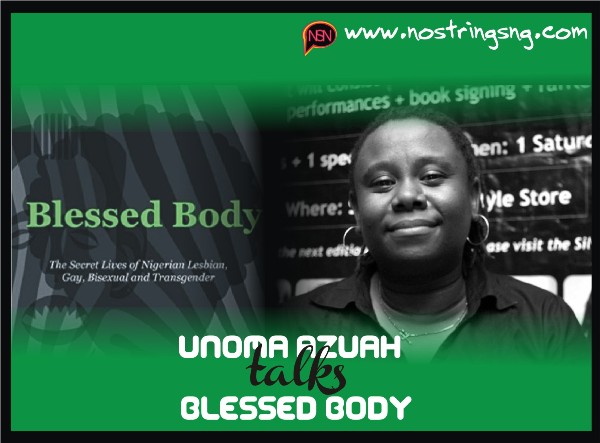 Unoma Azuah, a Nigerian human rights activist currently residing in the United States, recently launched a book capturing stories and revealing the lived experiences of LGBT persons living in and outside Nigeria.
Unoma titled the book "Blessed Body" with a shocking caption subtitled as "The Secret Lives of Lesbian, Gay, Bisexual and Transgender Nigerians"
According to the book's brilliant introduction, the powerful and compelling stories told in it, aims to provoke fresh thoughts around the many misconceptions that people have about homosexuality. For example, it will address the issue of homosexuality being regarded by many as either unAfrican, an illness or immoral.
The book is strongly recommended as a compulsory read for the Nigerian law and policy makers.
NoStrings conducted an exclusive interview with Unoma Azuah to learn about the new book, and on the podcast, she talked about the importance of this book.
"The stories told in this book are mostly true life stories, and these narratives are particularly important because, they are the lived experiences of an oppressed minority group. It is also a crucial work, because it reveals that LGBT folks are humans as everybody else, and so the book educates people on the true nature of the Nigerian LGBT"
Unoma also said that the book does not just have LGBT people as its target readers, but urges everyone to read it. Unoma said: "everybody should read this book, it's an eye opener, and it will hopefully sway Nigerians, especially the Nigerian law and policy makers"
To get the book, please click HERE.
To Listen to the full interview, please click HERE
Have something to say about this interview? Please leave your comments below.
Have something to share? Ready to tell your story? Contact us.