Nigerian man stripped naked and arrested for cross dressing
A Nigerian man was stripped naked and humiliated by a group of people all because he appeared in female clothes.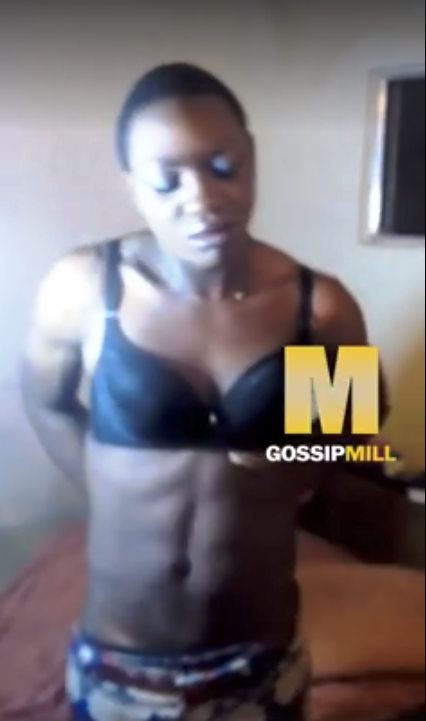 In the videos circulating on the internet, the young man is interrogated by people surrounding him, whose questions were abusive and manipulative. They were forcing him to admit that he is gay despite the fact that he was uncomfortable with being labeled.
From the interrogations in the video, the young man seemed to have had quite an unfortunate experience with another man who probably wanted to engage in a sexual activity with him for pay.
But surprisingly, the other man whom he is supposed to have been involved with, is not seen in any of the videos posted online, instead it appeared that he must've been made a scapegoat, or rather still it could have been an arranged set up.
They kept on making mockery of him and laughing as they seem to be enjoying their evil actions, while the young man struggled with discomfort to follow their instructions.
Clearly, their actions were cruel, as even people who commented on the video expressed their disagreement with how the young was man treated. One prince said;
"About hundred years ago, identical twins were mauled and hunted down in africa because people believe they were un-natural, evil and a curse to the land.
The same thing happened to Albino's and kids with epilepsy, as they were taken away from their parents, slaughtered and their corpse thrown away in the forest.. but we have practically stop killing Albino's, Twins and epileptic kids because we realize it all has to do with genes and they are just natural things.
Today, humans have focus their anger on gay people and i'm very sure that soon, we shall accept them as humans and understand that being gay is natural and has nothing to do with evil… the world is evolving and soon we shall throw away every dogmatic and superstitious beliefs that makes us hate each other"
Another said;
"Sad pathetic people, dictating how other people should live their lives. Who made you judge and jury because someone choose to be different. Who do us this thing?"
In the series of videos made available online by Gossip Mill, a Nigerian gossip news website, the same actions were repeated, as they forced the young man to remove his clothes, while in other videos, the police were reported and shown to be doing just the same exact thing as they pointed him with torchlights in the dark threatening to jail him.
From the gossip Mill report, the young man is said to have been arrested and locked up in a cell.
The videos did not disclose much information so the location of the incidence is unknown, but from the language used in the video, it showed that the incidence happened in Nigeria, and the people in video are Nigerians.
This is cruelty and clearly a violation of the fundamental human rights of this young man. Their actions contravened his rights to dignity and freedom of expression, as there is absolutely no where in the constitution of Nigeria that rules out a person's right to look the way they want to look.
Dressing up in what the society has labeled as female outfits, doesn't make one a homosexual, and even though the anti-same sex marriage prohibition act is highly unconstitutional, it still does not in any way say that people should be jailed for cross dressing.
We here at NoStrings condemn the actions exercised by these people toward this young man.
Watch the humiliating videos below.
"I Only Sucked His Manhood, I Started Doing This Business Because Buhari's Economy Closed My Nail Fixing Business" – Nigerian Guy Caught Disguising as A Girl

Posted by Gossip Mill Nigeria on Saturday, September 24, 2016
Nigerian Police Officers Final Interrogation of the Gay Suspect Before he was thrown inside their Cell

Posted by Gossip Mill Nigeria on Saturday, September 24, 2016
Have something to share? Ready to tell your story? Contact us.