Nigerian School, campaigns against homosexuality in its school magazine
A Nigerian secondary school in Jos called Airforce Military School, has published an article in its 2016 school magazine, condemning homosexuality.
The malicious and erroneous article was published in its school magazine called 'Junior Airman'.
The article is seen to have been written by one Mohammed Ishaku Mohhamed, who appears to be an SS1 science student of the school.
The so called senior science student proved from his article that he knows absolutely nothing about science or biology, which unfortunately makes him incompetent to write on the subject of homosexuality as a sexual orientation.
Reading through the disgusting article, one would come to discover that the claims expressed in it have no scientific proof whatsoever, and that the young man obviously, did not even bother to conduct any form of research on the subject before embarking on his writing project. This however proves that the information provided in the article lacks merit, is inaccurate, malicious and should be very much expected to cause harm.
It is even shocking to know, that the school authority will allow the publication of a baseless and unnecessary article without bothering to scrutinize and moderate its contents.
Exposing especially young people to materials like these does not only leave them half baked and ill informed, but will contribute to their confusion, and does not in any way, accurately answer some of the many questions that they may have about their sexuality, as off course however we try to deny the very existing reality, young people are curious and do have questions that needs to be answered.
Imagine the number of students that will read this article and feel threatened, believing that God hates them because they are different, and that worms will eat up their anus if they have sex with someone of the same gender.
The article which is supposed to educate and inform, fails woefully as it only presents homosexuality as a disease, a sin, a problem, but ultimately failed to provide a preferred solution to what it labeled a 'problem'.
How about issues bothering on safe sex, consent, health issues such as HIV and other STI's, depression, and bullying at school?
Seriously, It's time we deal with our bigotry and challenge the real issues at hand.
Read the published article below.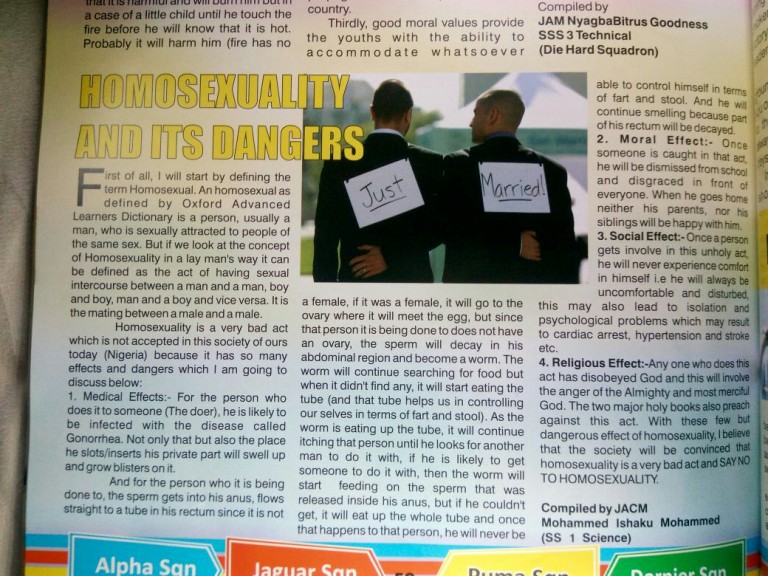 Have something to add? Leave your comments below.
Have something to share? Ready to tell your story? Contact us.