After years, British-Nigerian gay themed film Rag Tag remains relevant
When I was working at The Royal Court Theatre in London years ago, they staged Tarell Alvin McCraney's 'Wig Out!'. For a theatre whose ethos is about speaking loud their social commentary and breaking historical boundaries – it was still unlike anything we'd produced before. I remember how excited I was to procure comp tickets to encourage my people to come and see it. And I've been just as excited for everyone to go see 'Moonlight' too.
The parallels between 'Moonlight' and my film 'Rag Tag' are so apparent, there was no way I wasn't going to enjoy the movie. Both are about black men who meet as boys and whose loving but troubled relationship evolves until adulthood. Both men dally with criminality as they seek to find their own identities and their own peace. Rag's negligent mother has as indelible effect on his eventual path, same way Chiron's does.  And when both drug addicted mothers reclaimed themselves in recovery, they were able to come to some type of accord with their sons.
But then again, the differences between 'Moonlight' and 'Rag Tag' are significant too. Moonlight's African American men are grappling with a different set of historical and social issues. Rag Tag's UK based protagonists both identify as Black British – but their African and West Indian roots aren't only ancestral, they are current and lived. This made it easier for me to set Rag and Tag's relationship in a context where they were surrounded by a wide variety of black characters. As a result, the black criminals and addicts were not driving the narrative as much as black family and friends who conformed less to the negative socioeconomic stereotypes we see in so many films.
Many have spoken out over the years about the type of black roles that tend to be celebrated by the big film awards. On the few occasions they celebrate black roles at all, we generally see predictable tropes: slaves, servants, drug addicts, prostitutes, criminals, etc.  David Oyelowo's thoughtful interview with NPR show The Frame raises very salient points about how he chooses work as a black man.  I think it is right that as black artists we should be conscious and deliberate in how we select our projects. But I also think that ultimately, we should embrace the opportunities that offer us a chance for our own truth. So many elements of Moonlight were as autobiographical for Tarell Alvin McCraney's and Barry Jenkins as Rag Tag was for me.  In my case, I was able to tell my own story with a wider variety of black (and even non-black) role models because that was the fortunate environment in which I was raised.
It can be a rare blessing to make films that resonate with our soul.  For me, those are films about the authentic African and Black experience, at home and out in the wider world. For me, those are also films about men's honest and deep relationships with other men.  I was able to combine both those often disparate threads in Rag Tag.
And when I made Rag Tag, the only mainstream reference point for that film was Brokeback Mountain. I love Annie Proulx's short story and Ang Lee's film, but despite there not being a single hint of blackness in either of them, my friends would still jokingly refer to Rag Tag as 'Brokeback Ghetto'. The subject matter of deep-rooted male love, especially in a black context, is a still not very visible. Wonderful stories are being told, but it took more than a decade for another film like that to become part of the mainstream award sweeping conversation.  I am happy that film is Moonlight. I wish it the best, and I honestly look forward to a time when my mates will in turn start referring to Rag Tag as 'Moonlighting in London.'
---
Written by Adaora Nwandu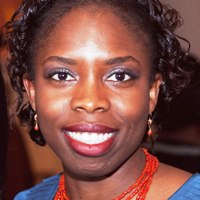 Adaora Nwandu is an award winning writer/director who studied at Oxford University, AF France, and USC School of Cinema. She is the owner of Muka Flicks Ltd. She has made several short films including the feature film Rag Tag.
---
Aricle Source: http://www.adaoranwandu.com
Have something to share? Ready to tell your story? Contact us.