NoStrings calls for contributions from Lesbian, gay and bisexual Nigerians for its 'Your Voice, Your Story' project
INTRODUCTION
Following several surveys and captured reports, it is evidently clear that Lesbian, Gay, Bisexual and Transgender (LGBT) persons battle with their lives every day, especially people in African countries where homosexuality is made illegal.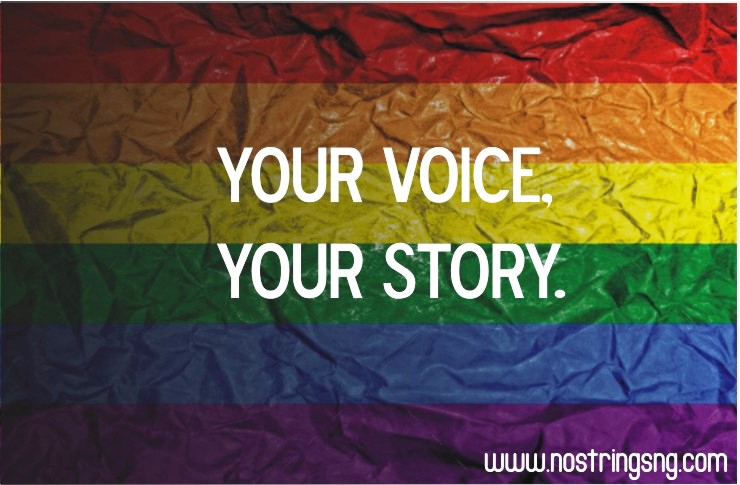 It is quite sad that even with so much work and education on the subject of homosexuality, a lot of people still deny or are rather ignorant of the fact that gay persons actually exist, while others do not agree that the rights of gay persons are not different from that of heterosexual persons and that sexual orientation cannot be changed or altered in anyway.
NoStringsNG.com – a media advocacy platform for the Lesbian, Gay, Bisexual and Transgender (LGBT) community in Nigeria will be making a short audio documentary which will feature and explore the everyday realities of three (3) LGB persons in Nigeria.
It is seeking for contributions from Lesbian, Gay, and Bisexual (LGB) persons living in Nigeria, out of which three random persons with peculiar and authentic stories will be picked for the project.
WHAT IS THE PROCESS?
(Read the following below very carefully)
Persons can be anywhere WITHIN the country and participate provided they have a phone or recorder with a clear voice capturing feature.
After application, If you are chosen to participate, you will be contacted officially to confirm your interest, after which, a set of questions will be delivered to you.
You will be expected to respond to this set of very few questions using a conversational tone, and then will be required to upload it using a secured link that will be provided for you on the website.
We strongly advise that participants do not introduce themselves with their real names or mention their actual location during audio recording, but may choose to do so at their own discretion. However, we will not be blamed or held responsible for doing otherwise in case of a backlash.
WHAT'S IN IT FOR PARTICIPANTS?
NoStrings appreciates your effort and interest to participate in the project, and so in compensation, will offer N3, 000.00 (three thousand naira) to each participant AFTER their recordings have been successfully sent and ACCEPTED to be used.
This we believe will cover for internet data expenses.
We would've loved to offer more, but unfortunately, this particular project is not funded from any external body, and It is also important to note that we are not an NGO, and do not have enough to make large financial expenses.
*Please note that all information shared on the official NoStrings website is secured and safe, as the website uses strong security software and SSL security certificates for data encryption. The platform does not share information supplied with any organization or persons.
Submission deadline: 18th January, 2017.
Have something to share? Ready to tell your story? Contact us.