Nigerian Bisexuals Speaks! "We Are Not Cheats!"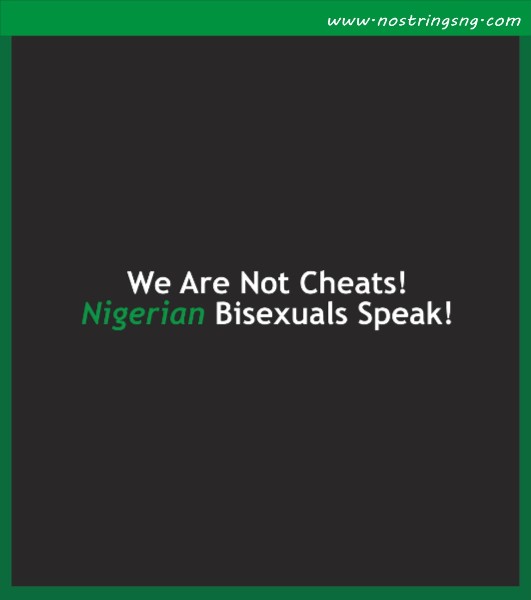 There are so many negative misconceptions surrounding the issue of bisexuality, as so many people have their own different perceptions about the subject, which is often very negative, something that could be described as biphobia.
Some people believe that bisexuality is not a real sexual orientation and thus believes that it's just an experiment, and for some who believe that for real, there are bisexuals, they sometimes conclude that bisexuals are sexually unstable, and so therefore can never be trusted.
Some people also believes that bisexuals have it easy surviving in homophobic countries, and have the advantage of comfortably fitting in as straight and for these, some gay and lesbian people feel that bisexuals are using this[advantage] as an edge to look down on them.
Some bisexuals on the other end, feels that gay and lesbian people hate them, and therefore prefer to hide their sexual orientation, especially at the very beginning of their relationships, and prefer to reveal their true identity later, sometimes doing this at the peak of their relationships.
Marriage for bisexuals has always been questioned by many, as many imagine that bisexuals will not be very comfortable and satisfied in single monogamous relationships.
Gay, Lesbian, and Bisexual activities have been made illegal in the country [Nigeria], as a result many bisexuals who eventually fall in love with members of the same sex do not proceed, or are unable to marry each other and so rather end up, or are forced by the law to marry people of the opposite sex, and they never end up with their choice partners, and for this, they will have no other choice but to continue to seek sexual satisfaction outside their marriage, and thus painting a very negative picture of bisexuality.
NoStrings in a bid to tackle the many different issues concerning bisexuality, and weigh people's opinion on the issue, decided to have discussions with people, both Nigerians and people from other countries. The discussion has been divided into two parts. The first part will be this episode with Goodmade, a Nigerian bisexual man, and Jerry, a Nigerian gay man.
Goodmade, who identified himself as a married bisexual man with a son, expressed his concerns and what it means for one to be a Nigerian bisexual, and why some Nigerians claim to be bisexuals, while in disguise are actually gays. Then Jerry, who identified as a gay man, expressed that he does not have issues with bisexuals, and that in fact, he can be in a relationship with a bisexual so as long as that person will dedicate some quality time for him, when he needs it.
The later part of this discussion will be with one of our female bisexual Ghanaian who now resides in Canada, and Frank a bisexual Nigerian Man. The final part of this episode will be released at a later date in a new week, as a follow up.
Below is a list of the different questions that were dealt with on the podcast.
Are bisexuals confused?
Are there bisexuals in Nigeria, really?
Is it easy to survive as a bisexual in a homophobic country?
Do bisexuals think that they are better than gay and lesbian people?
Are bisexuals by default cheats?
Do people have a chance to start and sustain a meaningful relationship with bisexuals?
Is bisexuality a real sexual orientation? Etc
When bisexuals marry, will they still identify as bisexuals?
Get answers to all the above questions in this episode by clicking on the download link above under the episode poster to listen to the full conversation with these people.
The concluding part of this discussion will be released at a later date as a follow up in the upcoming week, so to join all our future discussions/conversations and to participate, please use the following information below.
www.facebook.com/nostringspodcast
Or send us an email using info@nostringspodcast.com
Have something to share? Ready to tell your story? Contact us.