Nigerian's Bible research leads to anti-gay death threat
Prosper, a young Nigerian man, is scared and in shock after his pictures were published online with accusations that he is gay.
The person responsible for posting the accusatory post was identified as one Victor Okeremba, who claimed in the post that Prosper was supporting homosexuality and was gay himself. Okeremba wrote to Prosper, "I want them to lynch you." He published the verbal attack "to punish you," Okeremba wrote.
Prosper, whose fear was obvious as he spoke to NoStringsNG.com, said that what he posted on his Facebook account was a result of his research into the issue of homosexuality in relation to the biblical story of Sodom and Gomorrah.
Okeremba saw the post, copied it, extracted Prosper's pictures from his Facebook account, and posted them with a malicious article about Prosper on Nairaland.com – a toxic and trashy Nigerian online gossip forum.
Okeremba then threatened Prosper that he would submit his article and the pictures of him for other media sites to publish. The only thing that would stop him from doing so, Okeremba stated, was if Prospero admitted that he is gay. Eventually, the post went viral as blogs and media platforms reposted it.
These are screenshots of those online conversations: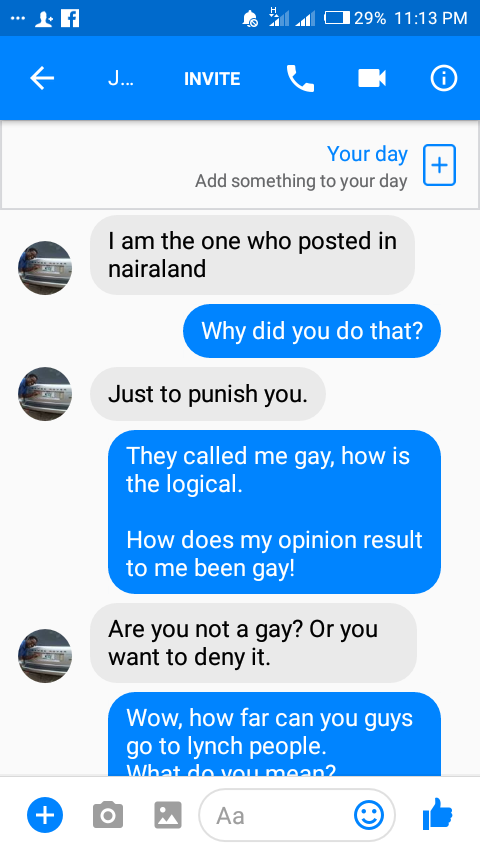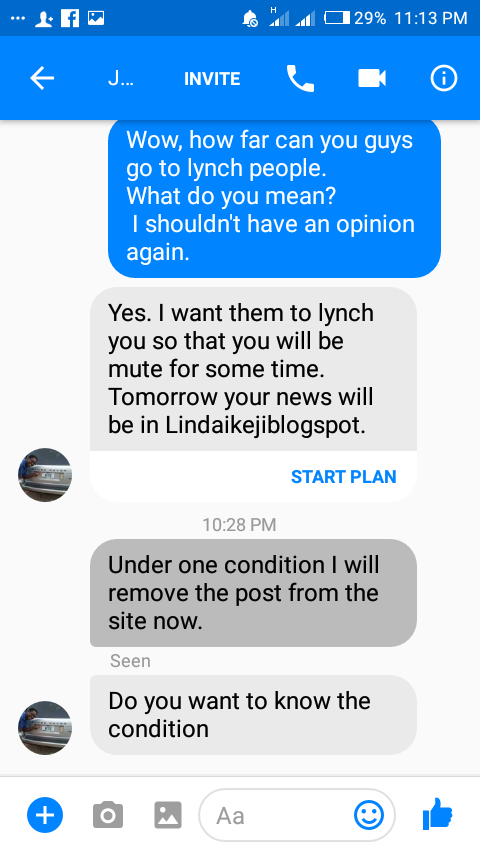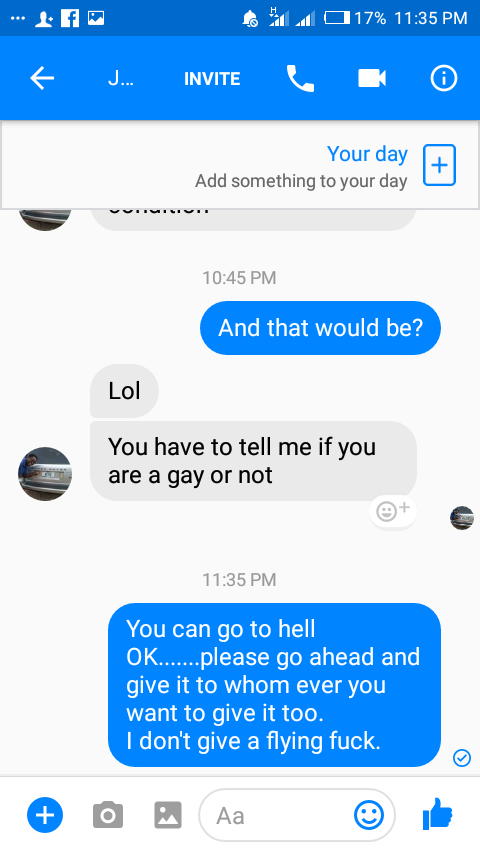 Okeremba, who posts on Nairaland under the name Ochongoloko, has spoken to NoStringsNG in the past. He says he is a medical professional from Lagos.
His post was reported to Nairaland as inappropriate and it has since been taken down. But there's no doubt that damage has already been done, as Prosper's identity has been exposed.
"They have removed the post, but some people might still have screenshots," Prosper said.
Prosper, age 20, is still shocked. He fears that, with his identity exposed on the internet, he may be harmed.
NoStringsNG is currently in talks with the young man, exploring his options for keeping himself safe.
In the past, NoStringsNG has sometimes posted articles on Nairaland. In response, Okeremba accused the site's founder of using Nairaland to promote homosexuality and sought to have him blocked there.
Okeremba's threats are far from the first time that homophobes in Nigeria have targeted people who disagree with their opinions about gay-related matters. It is absolutely wrong for people to hurt other people just because their opinions differ from theirs. This is nothing but sheer wickedness and homophobia at its peak!
Have something to say? Leave your comments below.
To connect with us, follow on Facebook or Twitter.
Stay updated regularly? Download our mobile app HERE.
Have something to share? Ready to tell your story? Contact us.