Popular music producer Don Jazzy shows support for feminine Nigerian man
Popular Nigerian producer and record label owner, Don Jazzy, has surprised many on Instagram after he openly showed his support for a young effeminate Nigerian man.
This is indeed a positive move, as more Nigerian celebrities are now beginning to speak up openly to defend and embrace LGBTIQ persons.
READ ALSO: Bobrisky provides financial support to Lagos 57 gay suspect
Don Jazzy surprised his over six million Instagram followers after he shared a video of Obialor James Brown who was dancing impressively to a song that he had produced.
Brown is an effeminate Nigerian man who gained massive media attention last year after he was arrested by the Nigeria police and paraded by the media as a homosexual.
READ ALSO: Lagos 57 gay suspect tells his own side of the story
The producer did not only share the video, but also thanked Brown for his support for the song, and also went further to rebuke those who were saying negative things about the talented dancer, saying that they were only 'full of hate'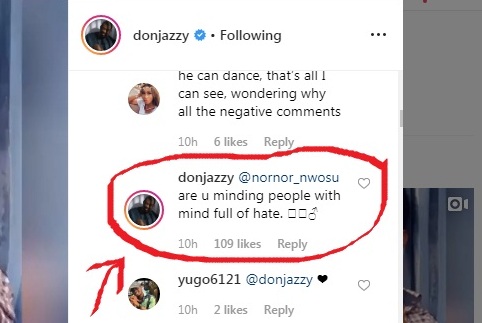 "Are u minding people with mind full of hate" Don Jazzy responded to a seemingly bitter commenter.
Watch the video below.
https://www.instagram.com/p/Bxx7xvnFnBi/
Have something to share? Ready to tell your story? Contact us.