Snakes are attacking LGBT people in Kenya refugee Camp
A snake attacked and almost killed an unknown individual in Kukuma Refugee Camp in Kenya.
This report was gathered from a Facebook page of the same name that reports and documents happenings concerning LGBT persons living at the camp.
This is evidently not the first time that something like this is happening. A post which reported the incidence reads:
Its a common brown snake … This snake is considered the world's second most venomous on land… One of us known as Gibson just survived its bite from our tent… This time i won't blame the Refugee Agency or any one for what lgbti's face in Kakuma Refugee camp from homophobia around, to scorpions, centipedes, snakes… Hunger… Honestly i wont blame any one…And even though we have to face the prospect of being minority in this camp, Im just glad that we have the courage to be in a place were hope looks to be lost..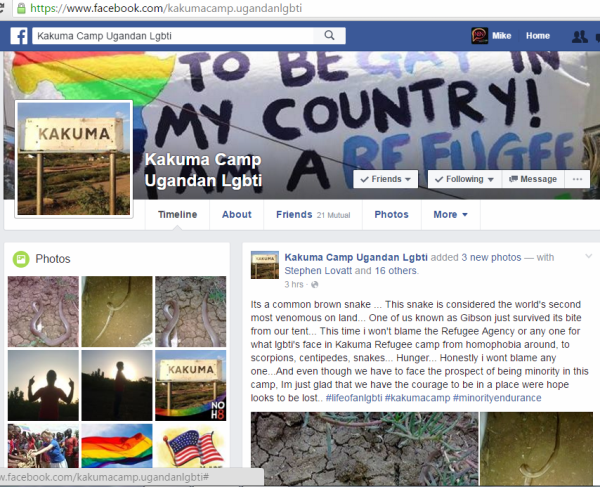 LGBT persons, especially Africans, who flee their homophobic countries to Kenya, for fear of being persecuted, are required to register as refugees, where they are settled in a camp called 'Kakuma Camp'
The camp was established in 1991, and it is managed by the Kenyan government and the Kenyan Department of Refugee Affairs in conjunction with the UNHCR.
In this camp, people stay in tents, pending when their papers will be approved by the authorities for them to be relocated to countries of their choice.
LGBT people in this camp suffer all manner of discrimination, attack, homophobia etc.
Treatment in this camp is horrible, from feeding to the total welfare of persons in this camp.
NoStrings sympathises with victims in this camp, and looks hopefully to a future where all LGBT persons will be free, treated equally, and their rights recognized and respected.
Have something to say? Then, leave your comments below.
Have something to share? Ready to tell your story? Contact us.