Emir of Kano Sanusi Lamido speaks up for gender equality
The Emir of Kano and ex CBN governor, Sanusi Lamido Sanusi, has spoken up against gender based violence, taking a stand for equality and respect.
Sanusi gave a clear statement, condemning all forms of violence against women, stating that men should treat women with respect.
Find below his comment.
Truth be told, a man wouldn't want someone hitting his daughter, so he shouldn't hit someone else's daughter. When a man hits a woman, it gives him a measurement of his control. He is not treating her with respect. Instead of her being his equal, she allows him to place himself above her while she becomes the peasant. And the only reason why this happens is because those women allow it. The most important thing a father can do for his children is to love their mother. There are many excuses men use to justify hitting women, but none of them are legitimate. Some would even go as far as saying, "That's how I was brought up. So this is normal." This is NOT normal. It's a mental sickness that needs to be rectified & We need to act on#GenderEquality against#DomesticViolence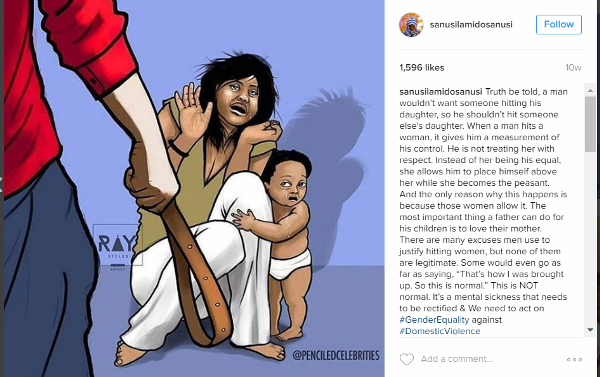 In Africa, many men have internalized the idea that they are superior, and so tend to think of their spouses or women in general as objects to be owned.
Violence against women is a violation of human rights, and also a form of discrimination against women.
People should be recognized first as people and so be treated equally regardless of their gender, sexual orientation, religion, age, race, and disability. No one deserves to be treated as trash.
This is clearly an appluadable remark coming from a man at that position who people would expect to be intoxicated with power.
Have your say in the comment section below.
Have something to share? Ready to tell your story? Contact us.