NoStrings launches its official Hotline for LGBT Nigerians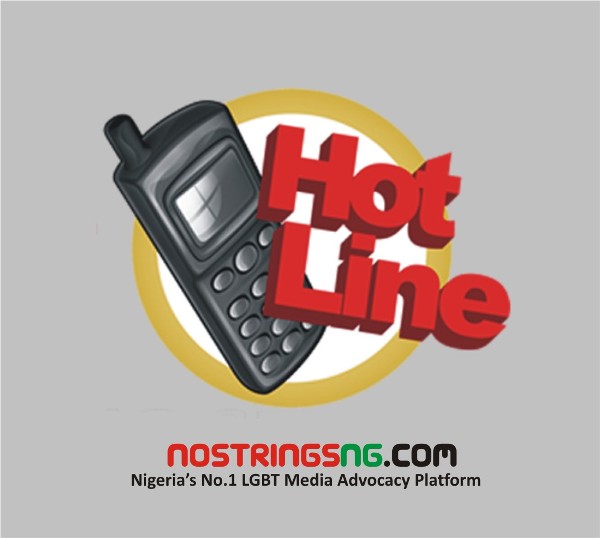 Good news everyone!
Here at NoStrings, we believe that all lives matters, and LGBT persons are humans, and so their lives matters.
We have decided to launch the official NoStrings hotline to tackle issues affecting the lives of LGBT persons living in the country. The aim is not just to bring the community together but to provide access to accurate information whenever it is needed.
So, are you an LGBT person living in Nigeria and going through some serious challenges and need help? Do you need access to counseling and support? Do you need to access FREE HIV testing services, or are you having some health concerns you will need to discuss with experts and professionals?
Also, have you experienced any human rights violation, or you have witnessed this happen to someone else and will need to report it? Are you in danger? Is anyone trying to blackmail you? Or you just need to make a general inquiry with us here at NoStrings?
The phone number you can use is +234 813 242 0473. It is a 24hour open phone line for SMS and phone calls. Call now, call today to speak with someone confidentially who will listen and wont judge.

Please note:
Please make an indication, if you will like to be subscribed to our SMS alert notification service to get periodic updates from us.
We will not entertain phone calls from people directly seeking for financial assistance of whatever kind, or for hook up arrangements.
Also your confidentiality is our priority and we assure you that whatever you discuss with us, will be kept safe and will not be shared with any individual or organization without your consent. Please feel free to read our PRIVACY POLICY and STATEMENT OF CONFIDENTIALITY.
Best Wishes.
The NoStringsNG Team
Do you have something to say? please leave your comments below.
Have something to share? Ready to tell your story? Contact us.