Male Nurse Sodomizes Man In Hospital Bed In Zimbabwe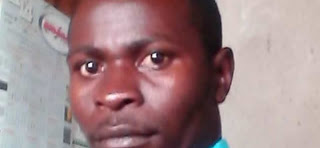 A MIDDLE aged nurse at Mutare Provincial Hospital allegedly offered accommodation in a hospital ward to a man who had escorted a patient before he joined the latter in bed in a nasty case of aggravated indecent assault that occurred recently.
The incident, which has sent tongues wagging at the provincial referral medical institution, saw a male nurse, Norest Makanga, offering accommodation to a middle aged man who had accompanied a patient to the hospital for treatment.
Apparently, the patient's escort had travelled a relatively long distance to Mutare Provincial Hospital and could not find transport back home in time, hence the need to seek accommodation for the night at the hospital.
Manicaland provincial police spokesperson, Inspector Tavhiringwa Kakohwa, confirmed that a report was made to the police post at the hospital and investigations were in progress.
"Yes, a report was made to the police post at the hospital and investigations are still in progress. We are hoping to have the matter finalised soon," said Insp Kakohwa.
However, reliable sources at the provincial referral health institution said that investigations were carried out soon after the incident, revealing substantial evidence that Makanga had a case to answer.
Makanga is understood to have since been moved from the casualty ward to the CSSD department where he would not be dealing with patients anymore.
When contacted for comment recently, Manicaland Provincial Medical Director, Dr Patron Mafaune, referred this reporter to the public relations department.
"I cannot comment on that case. I think you just have to contact the public relations guys. They will be in a position to give you a detailed comment," she said before refuting to entertain any more questions.
Sources said that this was not the first time that the nurse had been linked to cases of a similar nature.
"As we speak there is a board of inquiry sitting over the issue. Apparently this is not the first time that Norest Makanga has been linked to cases of similar nature.
"He had been lucky that there was not much evidence in the past, but it appears there is overwhelming evidence this time around," said a Mutare Provincial Hospital senior staffer who cannot be named for professional reasons.
Efforts to get a comment from Makanga were fruitless.
Source: http://www.newsdzezimbabwe.co.uk
Leave your comments in the comments section below.
Have something to share? Ready to tell your story? Contact us.