Cameroon: LGBT rights group fight HIV/AIDs in the face of Violence
YAOUNDE (Thomson Reuters Foundation) – Sitting in a circle with several other young men in a charity's offices in Cameroon's capital, Fleur listens intently to the speaker talk about gay sex before slowly raising his hand.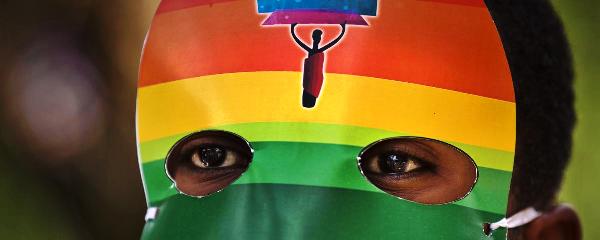 "Can we catch AIDS by swallowing sperm?" he asks, prompting laughter from his peers at the group discussion held by Alcondoms, an organization promoting the rights and health of lesbian, gay, bisexual and transgender (LGBT) people.
Yet HIV and homosexuality are no laughing matter for men like Fleur in a country where being gay is illegal and LGBT activists face rising hostility and violence.
Cameroon has the second highest HIV prevalence rate in West and Central Africa, after Nigeria, and men who have sex with men are hit the hardest, says the U.N. AIDS program (UNAIDS).
While one in 25 people in Cameroon are living with HIV, almost a quarter of men who have sex with men in Yaounde have the virus which causes AIDS.
The prevalence of HIV in this group in Douala, the economic capital, is even higher with two in five men who have sex with men (MSM) infected, according to the state's national AIDS control committee.
The committee says it has developed various strategies in recent years to reduce the number of new infections, such as making antiretroviral treatment free and setting up support programmes for patients.
But the fear of discrimination and threat of five years in prison are driving MSM and LGBT people away from hospitals and state programs, according to civil society groups who say they fill the gap by providing condoms, counseling and healthcare.
However, their work in improving access to healthcare for these marginalized communities has also had an unforeseen and adverse impact, according to gay rights activist Lambert Lamba.
"People feel that taking MSM into account in health policy is a way to legalize homosexual behavior," he told the Thomson Reuters Foundation in Yaounde. "This has resulted in more and more attacks on gay people and human rights defenders."
CLIMATE OF FEAR
Animosity is growing between a largely conservative society and a younger generation less concerned by homosexuality in a country which prosecutes people for being gay more aggressively than almost any other nation in the world, LGBT activists say.
At least 50 people were convicted of homosexuality between 2010 and 2014 – for acts ranging from cross-dressing and wearing make-up to a man texting "I love you" to another man – according to data collected by The Cameroonian Foundation for AIDS.
While there have only been a handful of convictions since 2014 – a drop activists attribute to their work, intervention by LGBT-friendly lawyers and the advocacy of Western diplomats – discrimination towards MSM and LGBT people remains rife.
Evrard, who attended the group discussion along with Fleur, said he would never return to a state hospital when ill.
"When I went once with my partner, the disapproving look of the medical staff, the murmurs and the mocking laughter discouraged me," he said." I will never relive this experience."
Police last month arrested 12 men for homosexuality because they were in possession of condoms and lubricants, while the offices of several LGBT groups have been vandalized and burgled in recent years, said legal charity Human Dignity Trust.
In a killing that rocked campaign groups in Cameroon in July 2013, gay rights activist Eric Ohena Lembembe was found dead in his home in Yaounde. His neck was broken, his feet smashed and his face burned with an iron, according to Human Rights Watch.
LIBERATED
Aware of these challenges, the national AIDS control committee relies on local civil society groups to reach out to people at particular risk of HIV with services including voluntary testing and medical consultations.
"I am a MSM and a sex worker myself," said Patrick Fotso, head of Alcondoms, which educates 50 people a month about HIV. "It's therefore easy for me and the members of my association to get in touch with our peers and send them prevention messages."
Larger organizations administer antiretroviral drugs, and say they are working to ensure all HIV-positive people on their books are on the treatment.
Distributing condoms to halt the spread of HIV is another key, and cost-effective, strategy.
More than one million condoms were distributed in Cameroon last year, compared with fewer than 100,000 in 2008, said Jean-Bosco Elat, coordinator of the national AIDS committee.
While the state and civil society groups strive to improve health services, individuals like Fleur still have to contend with the constant menace of abuse, discrimination and violence.
Recalling his experiences at hospitals – where nurses said God would punish him for being gay – and how people stare at him because he wiggles his hips when he walks, Fleur said being able to discuss sex in a safe space with his peers had liberated him.
"I can get answers to my questions and easily take care of my health," he said. "I feel happy and comfortable to be here."
Have something to say? Leave your comments below.
Have something to share? Ready to tell your story? Contact us.