*Rita (not real name) a Nigerian woman who was previously arrested by the police after her ex-husband reported her for allegedly engaging in a lesbian affair, has now been attacked by thugs she said were sent by her husband to kill her.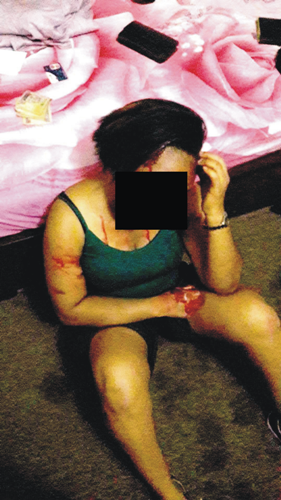 The incidence she said happened on the evening of Sunday, 17, on a street close to her house in Lagos.
Rita told NoStringsNG after the deadly attack that she managed to escape with the help of a store owner after sustaining serious injuries on her head and other parts of her body from the beatings she got from the thugs who were sent to kill her.
"I was coming back from a relative's birthday party that I had attended that evening when I heard voices from people standing at a dark corner of the street. They were four men calling out to identify me. I was scared because it was a little bit late so I walked very fast to avoid any harm, but they moved very quickly and stopped me. Immediately they started hitting me and saying all sorts of things about how I left my husband to be a lesbian, and that they will burn me. I heard as one of them requested for a tire. They started hitting me with very heavy woods. I fell to the ground and started bleeding"
Rita said that she was lucky to have escaped alive, as a shop owner came to her rescue.
"As I was on the ground screaming in pain, luckily, a man who owned a shop by the roadside came out shouting and they ran away immediately. I couldn't explain anything to him as I just managed to get myself to the hospital where I spent the night and moved the next day to my brother's house"
Rita said that her ex-husband kept threatening her, so she relocated to Canada.
"I have now relocated out of the country to Canada where I am now seeking asylum. After the incidence, my husband sent me a text message telling me that the attack was just a tiny part of his plan and that the next attack will come with acid. I had to flee to Canada"
*Names, specific locations, and other sensitive details have been removed from Rita's story to protect her identity so as not to jeopardize her safety.
Have something to say? Leave your comments below.