TERRIBLE: Homophobic Student Mob Riots And Attacks Gay Man In Senegal!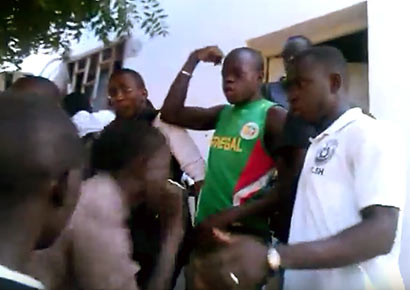 Students at the Cheikh Anta Diop University in Dakar, Senegal have gone on a homophobic rampage, threatening to kill a man they accused of being gay.
According to reports and video footage, the student was accused of propositioning another man in the showers and was accosted by an angry mob in the locker room.
A security guard said that the students screamed: "We are going to kill him!" The victim, however, managed to escape to the offices of campus security.
When security personnel refused to release the man to the baying mob, the enraged youths, armed with iron bars, clubs and bricks, began to riot; setting buildings on fire and destroying an ATM.
They harassed staff at a campus restaurant, threw plates to the ground and stole mobile phones.
Police were called and were forced to disperse the crowd with tear gas. Eight students were reported to have needed medical attention, with two being seriously injured in the melee.
"This isn't the first time that a mob has gone after someone suspected of being gay at Cheikh Anta Diop University," Djamil Bangoura, head of human rights group Prudence, told The Observers.
"Since 2012, we've counted nine similar cases. Some of these students dropped out of school because of these events. These mobs are often sparked by mere suspicions or rumours that someone is gay, not by facts."
Same-sex sexual activity is illegal in the West African country under article 319 of the penal code which punishes "improper or unnatural" acts with jail time of between one and five years.
In 2013, Senegal's minister of justice denied that article 319 targeted gays and lesbians, despite a number of arrests of LGBT people that followed. Most recently, in December last year, 11 Senegalese people were arrested on charges of engaging in homosexual acts.
According to a 2013 Pew Global Attitudes Project survey, 97% of the public in Senegal believe that homosexuality should not be accepted by society.
Source: mambaonline.com
Have something to share? Ready to tell your story? Contact us.