Call For Participation On NoStrings!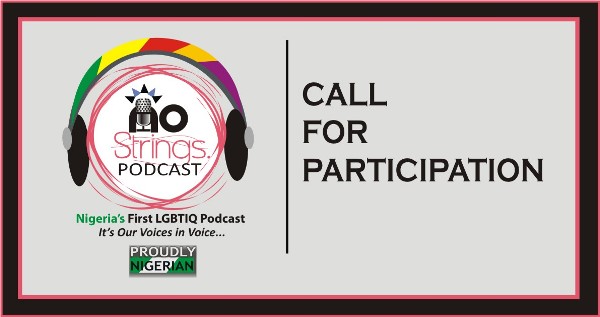 Hello Everyone!
It is now evidently clear and obvious that the subject of homosexuality is still very much misunderstood in Nigeria. This is is as a result of the lack of adequate information and media platforms providing undiluted and unbiased reporting on the subject in Nigeria.
So, to purse and provide a more better and in-depth understanding of the subject of homosexuality in Nigeria, NoStrings has taken on the initiative to provide on it's official website a section that will deal exclusively with LGBT issues, and it's been tagged 'Opinions'.
The platform will now accept authentic and organic written articles and voice recordings from Nigerians, expressing strong opinions and observations concerning the subject of homosexuality in Nigeria.
Written articles/recordings may express opinions and speak on the following:
Policies, LGBT Rights and the Law, Health, Gender Identity, Sexuality, Gender Stereotypes, Acceptance and Inclusiveness, Equality and Human Rights, Religion, Motivational etc.
Please Note:
All Articles and voice recordings submitted to NoStrings will be published and voice recordings hosted on the podcast.
NoStrings is targeting both LGBT and Non-LGBT, so your articles and recordings may appear on certain mainstream media platforms. But we have a confidentiality agreement setup, so therefore all personal information submitted to us, remains with us, as we will never share it, unless you give permissions that we can do so. For more information on our confidentiality agreement, please see: www.nostringsng.com/statement-of-confidentiality.
However to protect your identity, you may decide to either not include your name or to maintain a name of your choice other than your real names.
Also, we exercise the right to or not to publish certain articles and recordings submitted to us, if they do not appeal to the platform's goals and objectives.
For all further inquiries, or to submit articles, please visit: www.nostringsng.com or email info@nostringsng.com
Regards,
Mike Daemon
For: NoStrings NG
www.nostringsng.com
info@nostringsng.com
facebook.com/nostringsng
twitter.com/nostringsng
Have something to share? Ready to tell your story? Contact us.