Apply now: Writing competition for LGBTQ Nigerians
LGBTQ+ Nigerians living in the country now have the opportunity to once again take part in a new writing competition aimed at showcasing their work internationally.
By Mike Daemon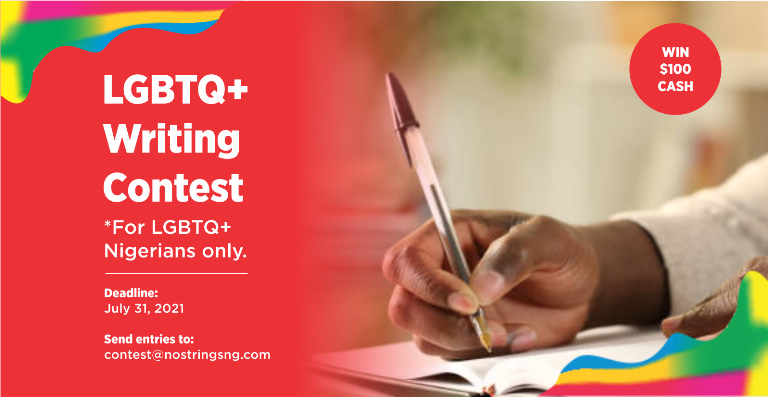 For the second edition of the competition, NoStringsNG has teamed up once again with 2019 LAMMY Award nominee and author of Naturally Unstraight, Jideofor Nwokedi to launch the project.
Jideofor Nwokedi is an ally and also a very strong supporter of the community. In 2014, together with his colleagues, he launched a legal challenge against the Same-Sex Marriage [Prohibition] Act.
Last year, Imelda from Delta State received a $100 cash prize after her story titled 'My Queer Journey' was selected as the competition's winning entry.
For this year, LGBTIQ+ Nigerians who are living in the country are to submit their original LGBTIQ+-themed short stories and memories for review.
Entries should be fiction or non-fiction short stories and can be in any form, such as love, family story, or general experience as an LGBTIQ+ person and with a minimum of 3,000 – 10,000 words.
The successful entry will be pushed to enter an international writing competition, published on Kindle, and then entered for the LAMMY Awards.
The author of the winning entry will receive a $100 cash prize.
All entries should be submitted in PDF or MS Word.
The deadline for submission is July 31, 2020.
To apply, submit your entry to contest@nostringsng.com
Have something to share? Ready to tell your story? Contact us.