Sad reality: Nigerian police officer who acts gay porn languishes in jail
It's been weeks since a Nigerian gay porn actor widely known as Kachi was apprehended by the Nigerian police in Bayelsa.
By Mike Daemon
Before the police swung in to arrest him on May 30, the adult film actor was beaten and paraded naked by angry mobs that kept abusing and screaming homophobic slurs at him.
The incident was filmed and shared widely online which eventually went viral.
Many have gone ahead to blame Kachi who happens to be a police officer for not being smart considering the existing discriminatory laws against homosexuality in the country.
Some also suggested that he should have hidden his identity and restricted access to his videos to only paid customers.
Kachi recruits and acts porn with other young men and then uploads them on his Only Fans profile where people pay a subscription fee to watch. In other to promote the videos, he publishes snippets on his Instagram, an account that has now been deactivated.
A reliable source who spoke to NoStringsNG about how he was arrested said:
"They have been targeting him since. He was identified as a gay porn actor by some bad guys in the area where he lives. Before he knew what was going on, they rounded him up and started flogging him. He was severely beaten before some people called the police and he was taken away.
As of the time of writing this report, Kachi remains in police custody, however, bail is rumored to have been set at N10,000, 000 (ten million naira) by the police, that's about $24,884.00.
According to a human rights organization in Bayelsa which described the situation as 'High Alert', it was revealed that the state Commissioner of Police is interested in the case, especially since Kachi is a police officer himself and also considering the substantial amount of evidence against him.
It was also revealed that police are in possession of Kachi's mobile phone and have been chatting with Kachi's contacts in the past weeks, luring them to locations where they have been arresting and asking them to pay huge bail money.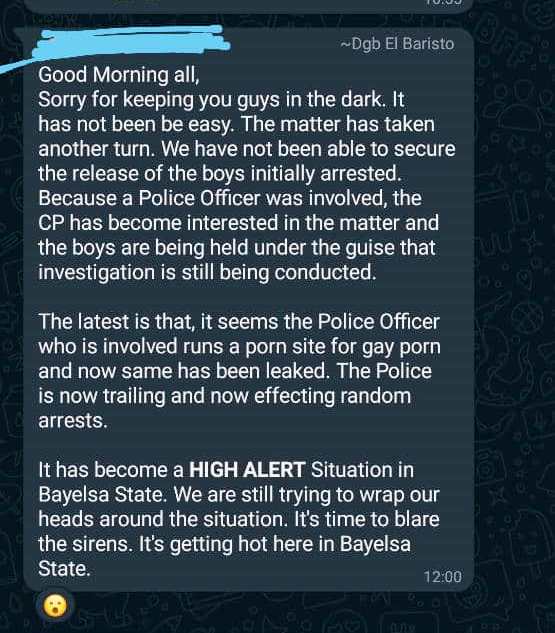 If this is true, then of course this is not new as the police do this in almost all homosexuality-related cases.
In a sane society where the human rights of ALL people are respected and recognized, we shouldn't witness a situation like this. However, given the reality and nature of the evidence against Kachi, we should most likely expect to see the police charge the matter to court in no distant time.
Have something to share? Ready to tell your story? Contact us.