NoStrings Podcast, Partners With GaySARadio, South Africa's Online Radio!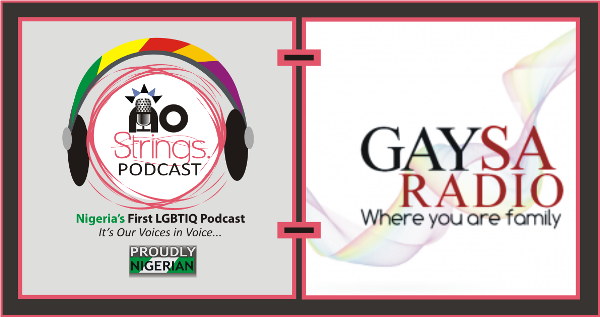 Hello Everyone,
We are officially announcing our partnership with GaySARadio, South Africa's online Radio Station.
This has partnership has been established with the sole purpose to further reach an international audience, as this is part of our vision/mission to project the voice of the Nigerian LGBT community to the world at large.
GaySA Radio will play episodes of the podcast every Wednesday in between great music from 11AM – 2PM (GMT-1)
We are indeed proud to represent the true image of the Nigerian LGBTIQ community.
We say a big thank you to GaySARadio for this wonderful and priceless opportunity extended to us here at NoStrings.
Click HERE to visit GaySA's official website.
Listen on your mobile device HERE
or HERE to listen live on your PC.
Regards,
Mike Daemon
For: NoStrings NG
www.nostringsng.com
info@nostringsng.com
facebook.com/nostringsng
twitter.com/nostringsng
Have something to share? Ready to tell your story? Contact us.